Nerds don't get much respect at the Oscars. In our living rooms this year, even less. When seven of the first ten awards at February's ceremony were in technical categories, living rooms 'round the world echoed in a collective groan. If Nielsen had ratings for how many viewers eye-rolled their TV set within the first hour, the stats would probably be comparable to how many viewers tried to cheek-pinch their monitors watching that kid in KONY 2012. So, lots.
When most people watch the Oscars, they want to see the stars. When those in the industry watch or attend the Oscars, we assume they want to acknowledge the work of their colleagues—if they aren't too busy "Jolieing," that is. So, "What are the Oscars for?" then, if not gawking at celebs gawking at themselves? Hollywood's biggest night is really just a glorified celebrity circle jerk, isn't it? Maybe nerds have no place in the circle. 
But the Oscars have been changing. Entertainment Weekly film critic Owen Gleiberman blogged in January that the Academy seems to be distancing itself from its past where what was "popular" and "Hollywood" was the focus of the night. Gleiberman thinks that with the recent Best Picture victories of The Hurt Locker and The Artist, the Oscars have lost the old Hollywood spirit they once embodied where films like Rocky and Titanic prevailed.
Really, this poses the perfect opportunity for the nerds to stage their revenge. If Gleiberman's "sea change" is a move in favour of art, then perhaps the art of so-called "technical" work will have a place. Opening the show with the Best Cinematography award meant more than just the fact that we'd have to wait through two hours of intermittently funny presenters for an overstuffed final act of Hot Celebrity. It meant that we had to finally notice the nerds. Damn them for looking so normal!
It's about time they get some more credit.
Oscar night's technical awards aren't even the really technical awards. Indeed, there is a whole slew of nerds who aren't welcomed to Oscar's main party, but instead are granted a special night where a fading B-list starlet presents awards for innovation in film engineering and design. This year, Milla Jovovich wore glasses to present the awards, so we know she cares about smart things.
Maybe Jovovich had it right, though. Maybe it's time Oscar was bespectacled.
The 2007-2008 Writers' Guild of America (WGA) strike brought more recognition to workers behind the scenes, but for an already somewhat recognizable crowd of entertainment employees like Tina Fey and B.J. Novak, the writers' eventual win came at a cost to the many technical workers who hold little to no symbolic "star" value in the cultural eye—not to mention, the eye of their employers. During the strike, the Alliance of Motion Picture and Television Producers (AMPTP) estimated that the lost wages of WGA members and the International Alliance of Theatrical Stage Employees (IATSE), the labor union representing technical workers, totalled more than $300 million.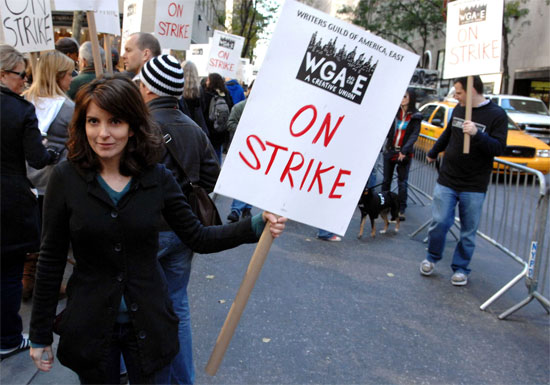 "Writers were taking a gamble," says University of Western Ontario professor and cultural labour researcher Matt Stahl, "but they had a good sense of their worth. You can't outsource writing work like you can technical work."
Stahl traces what he calls the "symbolic value" of writers back to the industry's move from the East to West coast: "Hollywood studios began hiring well-known writers who had some recognition out in the world," he says, "and they brought that consciousness with them, where they were then treated like cogs in machines." Naturally, the WGA was born.
Despite the advantages that IATSE brings to technical workers, the sad truth is that they hold no bargaining power. Technical artists are overworked, underappreciated—some identifying themselves as no more than "wrists" in the process—and easily outsourced.
"Outsourcing has really undermined the power of Hollywood unions to have an effect on studios," says Stahl.
Where visible faces like Tina Fey have given extra heft to unions and brought writers to the forefront of creativity, technical artists are still missing in the equation of stardom and recognition. A recent viral video called to make one man famous to effect change. Similarly, in order to effect change in the labour conditions of technical workers, the nerds might need their own famous face.
For now, they're still waiting for that euphoric "revenge" moment when Freddie Mercury blasts on the intercom of the college campus that is Hollywood.